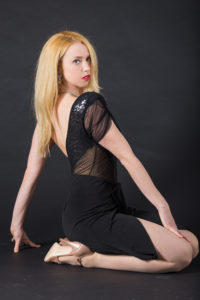 Maya Schwartz Grego has extensive experience performing and teaching Tango across the world. Having a strong foundation in ballet and contemporary dance, she graduated with honors with a degree in dance education and completed the annual special choreography project at the top of her class.
For the past 10 years she has been teaching Tango extensively in seminars and festivals in Israel, Germany, Switzerland, Romania, Italy and Spain. Among her notable performances she participated in Germany in Berlin at the Kudammtango festival, La Milonga "Tangotanzen macht schon" and "La Macanuda" in Pforzheim. In Romania she participated in several editions of the Transylvania Tango Festival in Brsov and Bran. In Italy she took part in the Lucca tango festival, the Imperial Tango Festival in Rome, the International Tango Meeting Alghero (Sardinia), the Pasqua Tango Festival in Parma. She performed at "Che Bailarin", the Miguel Zotto and Diana Guspero Milonga in Milan, and at the Milan Conservatorium representing the Zotto Tango Academy. In Spain she participated to several editions of the International Tango Meeting in Cantabria. In North America Maya performed  at "Tango Cafe" and at the "Milonga Paciencia", both in New York City.
In Israel Maya performed at the Tango Festival in Tel Aviv and toured across the Country in major venues with "Pitango" Orchestra, "Tango Bar" and "Otros Aires" orchestras. In the Suzanne Dalal Center in Tel Aviv she performed in a special joint collaboration with the flamenco company "Compas". In several occasions Maya has acted as a choreography consultant  for the television show "Dancing with the Stars".
Maya has been a lead teacher at the tango section of Dance Tel Aviv for seven years, several of her students have become tango teachers under her guidance. During her permanence in Milan Italy in 2015-2017 Maya has been a regular teacher at the Zotto Tango Academy headed by Miguel Angel Zotto. Maya has recently moved to New York to further carry forward her career and activities. Her latest performance in NYC was a special collaboration with the Juilliard school at the Lincoln Center.